I noticed the following quite a while ago. It's not on the KeenWiki's Keen 1 Bugs page, and forum and web searches didn't turn up relevant results, either. I'd like to know who else has been aware of this little bug.
Whenever a window is opened, the actual action is frozen. But in the case of the "God mode enabled/disabled" window in Keen 1, something is a little different. Go to a place with an ice cannon and press G O D. Wait a moment (at least the usual interval between two shots) and press G O D again. Repeat it multiple times to create a stream of icecubes. The animation below shows the result: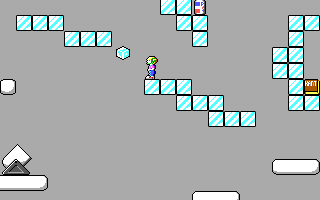 If it is done in user-made levels where many ice cannons are simultaneously active, such as The Ice Factory, it eventually crashes the game.