Yes I'm working on a whole new 17 levels for Keen4 using the original tilesets (so it's a levelpack not a mod). Currently they're quite challenging on Normal and Hard but I like my levels to challenge people so they feel like they've legitimately accomplished something when they finish. I favour skill intensive challenges so you shouldn't have to rely on luck much if at all. Expect constant action that'll keep you on your toes and playing 'til the end ;)
If you want a taste of my previous work, try my "highly acclaimed" Keen3 levelpack here:
viewtopic.php?t=492
13 levels have been completed so far, here are some screenshots just for you :)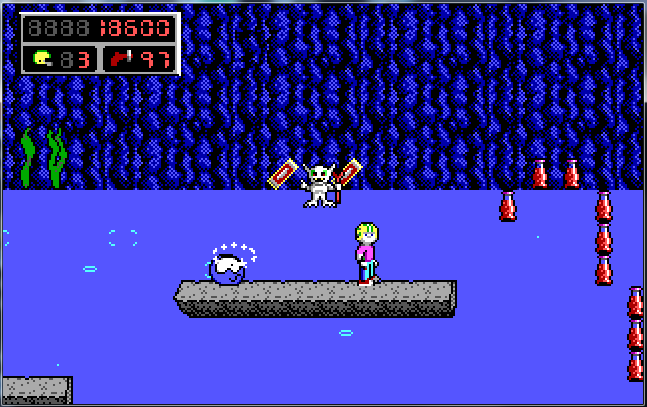 And the level names...
Outpost (Border Town)
Bridge (Slug Village)
Fordor (Perilous Pit)
Newville (Hillville)
Pipeline (Chasm of Chills)
Frozen Fortress (Crystalus)
Lost Tunnels (Cave of Descendants)
Corridor (Pyramid of Moons)
Arachnut Lair (Pyramid of Shadows)
Warehouse (Pyramid of Ancients)
Slug Lake (Lifewater Oasis)
Sandy Stronghold (Sand Yego)
Duality (Miragia)
Tarpit (Isle of Tar)
Fire Island (Isle of Fire)
TBA
TBA (Secret level)
And videos...
Sandy Stronghold:
http://www.youtube.com/watch?v=Sm0hhPWPZ6A
I've completed all but the Well of Wishes and the secret level. I also haven't been able to edit the text at all so you'll still see the original level names and such :P Enjoy!
(I highly advise NOT playing on Hard difficulty the first time through!)
http://www.2shared.com/file/fvfwxRQ1/GAMEMAPS.html