Hey hey! It's superbowl sunday! Do you know what that means? One year ago today, I joined the forums!
It's also approximately the time when I launched the Guardian of Wisdom mod project as a tribute to Keen, the community, uTUIT, Eight Accumulators and NetKeen! Yep, it's already been one year! January through April are good keening months for me, being in the dead of winter and start of spring. I'm afraid I've not made much progress since June, 2012. But! A lot of new projects have started! After I complete this one, I envision at least 5 more (and hopefully the King Tuber Rage mod).
Progress has started up again big time! I'll ride the wave for as long as I can and see how close I get to finishing this. When Bubbatom release his first previews for Suburb Shenanigans, I immediately made it my desktop image. Gazing at it for a number of days, I came up with an idea that will come to full statue in this upcoming project! Take a look: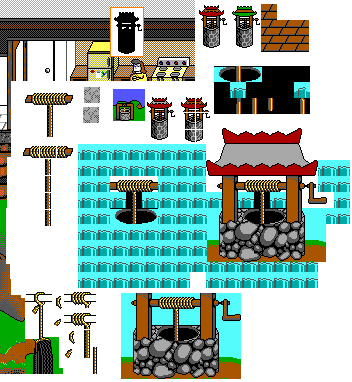 I'm building a Wishing Well! As you can see, it's inspired by Bubbatom's tire swing. Basically the idea here is to have an underground cave level with the Wishing Well as its entrance leading down into a treacherous cavern with underground rushing rivers, new perils, the Maddest Mushrooms and...uh...pitch blackness!
Mostly all done now. Still working on the top/roof of it.
EDIT: Hi there! Guys! In case you're interested, here's something more to look at:
http://youtu.be/408qsBepRZk
Just moved the Blue Bird replacement sprite set from modkeen over to keengraph, so that there video is a little demonstration. Currently the poor fella hasn't any arms or hands. He might end up that way. I like to think of his wings being his arms. Anyway... thought that'd be cool..yeah.. Chill!