I used to be Dreamer on the old board (the guy who never finished anything, but in retrospect I don't think anything was worth finishing, especially that fan fiction. Kinda cheesy now that I think back on it.) and recently, before I discovered the new PCKF, I made a piece of vector graphic artwork of Commander Keen. It's up on my
deviantART
.
I'm just anxious for opinions. Please tell me what you think. Preferablly on my deviantART.
I'm also working on a bloog fanart. Teaser: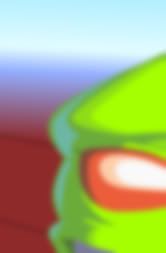 And now that I have been making this Commander Keen related fanart, I feel encouraged to make more. But I probably won't, knowing me.
So anyways, wadya think?
-J.P.