I got a PC and Commander Keen 4 on it when I was about 4 years old. I was a very little kid with undeveloped perception and memory and strong imagination, so occasionally I was just imagining things and thought that something happened to me and believed in it for many years. Later I realized that these things were technically impossible at all, but I'd like to share them with you anyway.
1. Bugging through wall into water pool in Sand Yego.
I always wanted to get into a water pool under Sand Yego (as I expected sometging to be here like in Lifewater Oasis).
Once I walked into the secret that is just at the level start (it can be a bit tricky to get out of it). I started to rapidly press many different buttons on keyboard like mad, I wildly jumped in it and also tried the Ctrl+Down combination. And suddenly I somehow fell through the wall and ended in the water on the bottom, which killed me on touch (or probably killed me when fell past the visible bottom edge).
2. Getting a lifewater flask in BWB Megarocket level.
Amost everyone knows that if you have less than 5 shots and enter a level (including BWB Megarocket), there will be an extra Neural Stunner for you just in the beginning on the level. But I remember that once when I had 0 lives, I enetered a BWB Megarocket level and there was an extra Lifewater Flask for me.
3. Entering a non-existent level.
I always thought that when I played Commander Keen for the very first time, I managed to enter and play a level which is located where keen stays on the picture. So long time I thought there was some hidden level and often ctrl'd that place.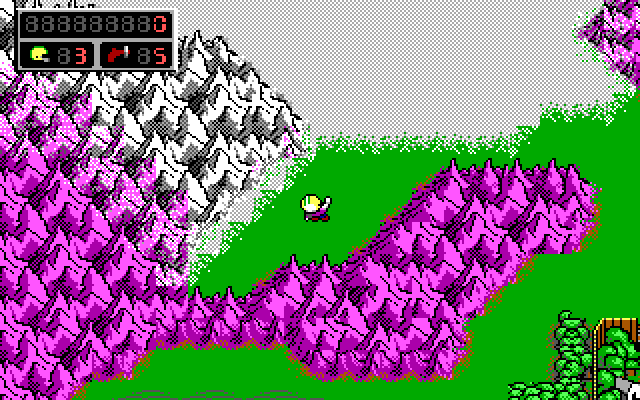 4. Two secrets connected in Lifewater Oasis.
In Lifewater Oasis there is a secret (with a long fall-through shaft) which gets you into the lowest area (just above the water pool). In the leftmost part of the higher area there is a tiny secret in the ceiling where is hidden a Doughnut (2000 points). I thought that the tiny secret in ceiling was connected to the shaft, so I could either get to the second lowest area from the shaft or get from the second lowest area to the area under it. I believed that once I got through the connection.
5. Keygems were not preserved in a savegame only sometimes.
It is a well-known bug that in a specific version of CK4, the keygems are not saved in a savegame. When I was a kid, this was happening to me (and I could not finish a level because of it), so I was afraid of it and often saved my game just before picking up a keygem. But I always thought that this happened just randomly and sometimes my keygems were properly saved. Concluding from the fact that I saved and loaded game very often in harder levels (pyramids), and if the keygems were never part of a savegame, I would have big problems beating the levels, but I didn't.
6. Suddenly appearing just in front of the Hand Pyramid.
I didn't know how or why, I just suddenly appeared to stand before Hand pyramid. I don't know whether I just unknowingly discovered the inchworm trick or not, I also probably didn't even enter the pyramid. I really think it was just a result of imagining things. I knowingly discovered the real way to the secret level many years later.