OK, I've for long wanted to make a level competition / collective level pack like this, so here goes.
Create a Keen1 level that only uses these tiles:
*144 for the invisible border around level
*155 black background tile
*333 solid blue rectangle
*279-282 fire against black background
*for exit, use tiles 481 and 494 to form the teleporter (it will be patched to finish level)
No sprites except for the Keen starter sprite.
No collectiables or ornamets, nothing but the tiles mentioned above.
Only one exit in the level.
Player will have pogo, infinite lives, and the teleporter exits the level (as mentioned).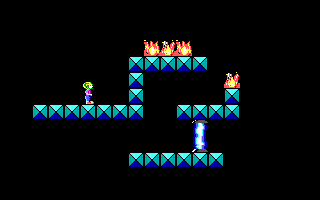 Make it the most enjoyable level you can.
Only one level per person!
You can send a replacement to your level if you create a better one, but otherwise it's just one level per Keener! The aim is to showcase Keeners as a whole, not ten levels by the most productive person.
Final deadline is May 10th (2017)
(edit: deadline extended from April 6th to 16th to 26th to May 10th).
Send your level to keenrush314 at hotmail dot com as an attachment. No links to third party sites, I won't register anywhere or write my e-mail address somewhere to get the file. Send it directly!
I will compile and release the level pack containing all the submissions (if they follow the rules).
I will judge the best level but the winner won't get any prizes other than the glory of winning an obscure contest like this one.
---------------------------------------------------
The level pack is out!
Get it here:
viewtopic.php?f=4&t=4064