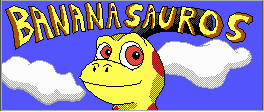 For anyone who missed the first release, I've been hard at work on a higher quality revision to make Bananasauros a much more enjoyable experience.
EDIT: reuploaded new version that fixes a level that was once impossible without the pogo.
EDIT 2: Another upload. Just a couple little map fixes. Now it's impossible to jump over the pyramids
[
http://www.zero1productions.com/billy/v ... os1.22.rar
]Link[/url]
On moddb (currently pending for authorization):
http://www.moddb.com/mods/bananasauros/ ... auros-v121
Many additions and improvements have been made, and hours of painstaking effort has gone into perfecting the difficulty of the levels to make sure they're fun and no mandatory challenges become overwhelming or unfair.
I extend gratitude to Paramultart, Tulip, and Mink for their contributions and all the time they put into reviewing every last pixel to find the most obscure (or glaringly obvious
) problems and report them in detail. They have been a marvelous quality assurance team, and you'll even be seeing some new artwork by Paramultart.
The theory thread
on Keen Modding also had a large impact on the redesign.
Without further ado, enjoy.
EDIT: I put together the soundtrack, in MIDI format!
Bananasauros Midi Soundtrack