Hello PCKF
Having been inspired by Gridlock's
thread
, I decided this morning to release
something
for Keen 64. And I noticed that the version that I was building up from scratch had alot more done than I thought I did. So I threw everything together and slapped it on my dropbox.
That being said, I am having a hard time even calling this a true beta, since its only level 1. So I'll just say that this test is
very
rough:
no sound or music
yorps won't collide into you
no level backgrounds
you can't pogo
And most of this kind of stuff was in the Pogo Demo, so it will definitely be in the final version of this game...eventually.
Also, a while back, I made updates to alot of the models and I plan to redo Keen's animations-- those will eventually be incorporated as well. And there will be a new title screen, I'd like to have it be 3D and move on its own, like the original title screen did.
I'm also debating on whether I should out the shadows out level 1, so it fits the N64 style better. But in the meantime, the level does what I want and captures what I wanted to capture with the first level.
So if this such a bare bones game, why did I release it? This test has three purposes:
1. Its a proof of progress (if I didn't put something out, I'd boi'st)
2. To see if people are able to run the game
3. get feedback on the level geometry...now that people can have a hands on experience with it.
The reason this is much more minimal compared to what has come before, is because this is a complete recoding of the game. I recoded everything because it was hard for me to go back and make changes ( I found in recent years that functions are my friend, as a programmer ), so the old code is pretty much a tangled spaghetti mess.
And also since I plan to make this game open source when its released, if I had trouble reading the code and making changes,
other
people will have an even
harder
time. So this new code should be much more readable for others if they want to edit the game.
And getting this game up to date with the progress made in the Pogo Demo will be much easier with better code!
I should also point out that this trickle of releases will be the norm until this thing is finally done. Once I get into the groove of this, I am planning to start releasing the levels one by one (or maybe several at a time). I can't say when the next release will be, but I do plan to give the community the game in bits and pieces so I can get feedback along the way, rather than just releasing everything at once-- but by then I probably won't want to look at it again and make changes.
So if there are those who don't want spoilers, its perfectly understandable if people want to sit this out. Once everything is done, I will release a final version in a new thread. To let the non-spoiled people know that the final product is ready.
So without further ado:
DOWNLOAD ME
CONTROLS:
Keyboard scheme using Keen 4-6 \ Galaxy Series controls (CLASSIC)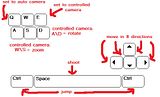 Mouse & Keyboard control scheme (FPS)
UPDATES:
v0.1.2 (1/31/2013)
- Keen doesn't get stuck on walls (thanks to Nospike for pointing this out)
- Keen can't jump infinitely (thanks to Gridlock for bringing this up)
v0.1.3 (2/2/2013)
- fixed strafing
- ray gun lasers hit the wall with a "zap" or "zot" (but still don't kill anything)
- there's a new map level
- you can access the first level from the map
- you now can complete the first level (though I need to add the "DONE" graphic and not let the level be reaccessed)
- you can also die and get a game over (though, no actual game over screen, it just takes you back to the title screen)
- updated models for the raygun and Keen's idle model have replaced previous versions of the models (Keen still needs to be re-animated before I can add his other stances)
v0.1.4 (6/11/2013)
- New level 2!
- Yorps don't bunch \ clump up or intersect with each other (its still a little clunky but it will do for now)
- New keyboard control scheme (with corresponding diagrams)
- Now the game asks if you'd like widescreen or fullscreen
- Map objects disappear in the other levels
- New map textures \ colors \ look and of course, corresponding level 2 hut
v0.1.5 (12/30/2013)
- Yorps can die now (sick, I know)
- New Shadow for easier platforming
- Camera is further away from Keen
- Pogo Level (very much a WIP and no pogo yet)
Release of Commander Keen 64 "Pogo" Demo
Commander Keen 64 Hub Thread