I have now released the Pogo add-on to the Keen 64 Demo.
The goal of the Commander Keen 64 project is to eventually recreate Commander Keen: Marooned on Mars in full 3D while retaining a low-poly N64-esque style. And in
The story of this demo is set as a prequel the original Commander Keen adventure, before the ship parts get stolen. Which explains the lack of vorticons. However Keen does stumble upon two martian cities, one of which has a pogo.
I'd like to thank the community for giving me feedback and always supporting this project. And again I'd like to thank ZidaneA for providing the music for this game.

Improvements from Last Version:
Ability to Pogo (obviously)
Remodeled items (thanks DaVince for bringing this up!)
Easier item grabbing (thanks MrBlack for the suggestion!)
New "Pogo" level
Improved falling
Better camera following Classic control scheme
Gamepad support on menu (thanks Iv4n for the advice!)
Better platform collision ( thanks Mink!)
Added crosshairs (thanks again MrBlack!)
This version of the demo now features 2 versions. The first, called Keen64Demo_Pogo.exe, has the menu in-tact. The second called K64DP_Alt.exe and K64DP_Alt_Menu.exe, has the menu separate; that is so one can just select a control scheme but play the game separately. This will hopefully fix an issue some had who could not get the menu working in the last release.
So it would be advised to try Keen64Demo_Pogo.exe first. If that has problems use K64DP_Alt_menu.exe to select your scheme and then use K64DP_Alt.exe to play the game by itself.
Lastly,
the details on how to use the gameplay controls are contained in-game, but please read the README on how to use some of the non-game controls, like volume.
Have fun!
DOWNLOAD
Screenshots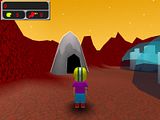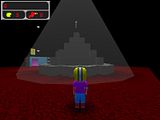 Previous PCKF topics:
Release of Commander Keen 64 Demo
Main PCKF Commander Keen 64 Thread
Release of Keen 64 "Gameplay" demo (or Keen 64: Gamma)
Old PCKF Commander Keen 64 Thread
Release of Keen 64 Beta