Since I am no good at modding at all (Well, not at all, just with graphics and levels.) I have decided it may be a wise move to close up shop on my attempts at modding. As such I have been going through my mod projects and shutting them down.
As some may be aware, for the last three years I have been modding Keen Dreams, but have been forced to edit levels byte-by-byte due to nobody wanting to help me with any of the Keen dreams compression. Although I have deleted my beta mod, or at least lost it, my alpha was actually uploaded, so I present it here for anyone who's interested.
Unlike my beta, the alpha does not have all the graphics redone, nor does it have the enemy patches or new sounds. However, FYI, these are possible, if, in the remote future, someone wants to patch Keen Dreams. (Ha!)
Note that this was my first ever mod, almost as soon as KDPatch was released. So the graphics are even *worse* than my usual fare.
Here's the alpha:
http://levellord.rewound.net/KDREAMS.zip
And here is a screenshot from the beta: (Final level, oh yeah, my graphics were that bad.)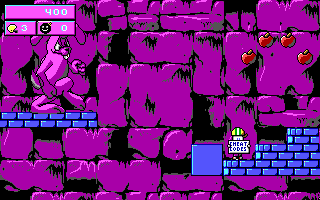 I'll probably release my Keen 1 mod sometime this or next month and then retire. I leave Keen modding to the superior skills of all of you, you amaze me every day!