Well finally, a year after the public beta here's the full release of Commander Cool 1! Happy early Keen Day!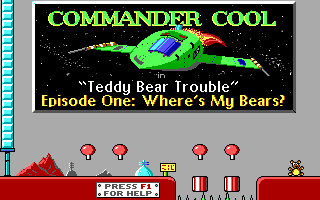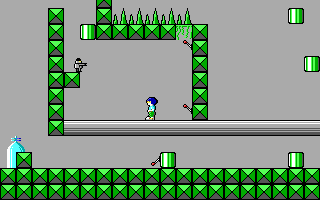 In case you missed the
public beta thread
:
This Keen 1 mod started back in 2014 as a levelpack entitled "Back to Mars" and was later changed to star my original character. There were several long hiatuses in production.
In this mod, you play as Commander Cool as he explores Mars trying to retrieve his teddy bears, which were stolen by the Martians.
Thanks to everyone who played the public beta and gave feedback!
Changes from second public beta:
Added two more pairs of small SGA letter tiles.
Added more colored tiles under a few more hazards.
Rearranged the tileset a little.
Added a missing exit reflection in the Raygun Shrine.
Added a patch to display the secured score in the status window.
The help section now says the maximum possible score.
Mentioned three more tools in the Mod Info.
Tweaked some of the player sprites.
Updated the DOS ending screen to have KeenWiki's new address and to list me as one of the creators of Keen 4 Retro.
Removed an arrow sign from Hopeless Jail since it could be confusing and the red keydoor indicated the drop was safe.
Increased the value of the point item near the exit in Hopeless Jail.
Revised the hints sheet.
Corrected the help section to say that the arrows move Cool around, not Keen.
Further revising of the final level, to lessen the difficulty further.
Added an extra bonus area to the final level.
Added a Tank Robot sign tile for the Hopeless Jail level and also redrew the Yorp and Garg tiles.
Tweaked some lighting in Hopeless Jail.
Tweaked the place near the "B" bridge in Ice Cannon City.
Revised a graphic from the ending's ship-flying sequence.
Download (latest version):
https://drive.google.com/uc?export=down ... nOh9A2P8If
Download (first release):
https://drive.google.com/uc?export=down ... 3RdUXAnqfc