The Monuments of Mar!

(very cool stuff btw)
I'm calling it right now: new Keen confirmed!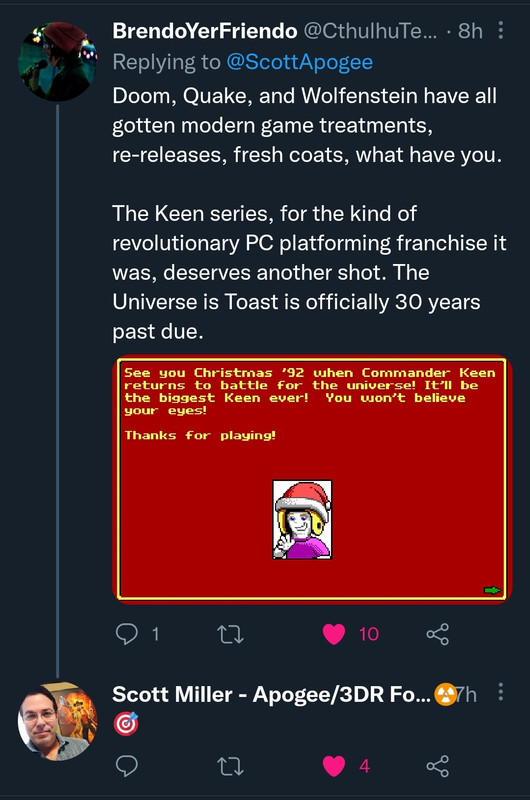 hmm dunno what to think about that one
Imagine the universe where EA published Commander Keen. We might have a whole different copyright quandary.
7) ASP cannot guarantee the success of any software it publishes, both ASP and Author must both accept the risk that much hard work may go unrewarded.
Dang, Apogee Software Productions with the hard facts.
At first I was shocked that ID only got 35% of the profits at first. Like, that sounds like a ripoff, but reading the explanation for the costs for distribution, mailings, etc it makes sense. I forgot they had to do physical distribution back then.
It actually sounds like kind of a sweet deal.
Scott Miller wrote: A secret mode of some type will need to be included in the game since that is a great incentive for people to register I've found, plus it makes the game easier for children.
Straight from the horse's mouth, everybody. I mean having once been a child that needed cheat codes to play I can already attest to that, but it's nice to see that they recognize it.
Interesting how much impact Scott had on the meta gameplay. Some of those suggestions are now iconic parts of the Keen series.
p.s. thx nisaba for fixing that image, i tried to but couldn't figure it out
"Friendly. Very friendly. Too friendly."

That image was just an alternate upload, intentionally broken, just in case Scott decides to delete it or Twitter go down.
Good idea to have alternate uploads. You better believe I've been downloading every single one of these images. They should be on KeenWiki probably.
"Friendly. Very friendly. Too friendly."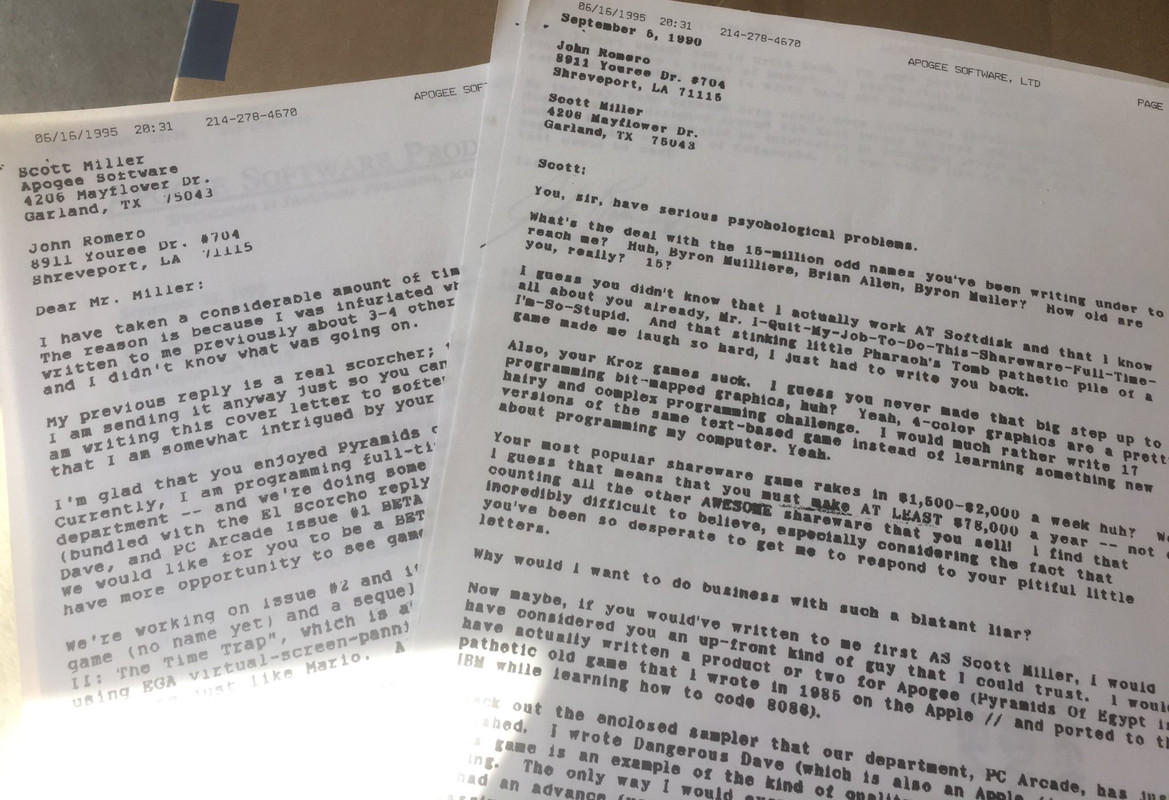 Mortimer's RightHand Man
Posts: 416
Joined: Thu Nov 01, 2007 16:32
Location: San Diego, California
Hilarious that the original illustration of Keen (the poster with the Bloog) "really bugged John Romero" because Keen had his gun in the incorrect (left) hand... but then the same mistake is made in the 6 character promo painting later on!
1. Joe Siegler posted a huge blog about his story of 3D Realms / Apogee. A lot of interesting insights and Commander Keen is also mentioned there.
https://joesiegler.blog/2020/11/my-story-of-apogee-3dr/
2. Also, today is Keen's release date birthday. Scott Miller posted:
https://twitter.com/ScottApogee/status/ ... OW5dUxgXgg
To celebrate Commander Keen's original release, here's the Shareware Top 10 the two months before Commander Keen appeared, and the two months after.

Domination. For the first time a game was important to the shareware market.
#ApogeeFiles #IdFiles
Are those images from that link really small resolution or am I missing the full copy somewhere?
I can barely read the text.
Ah yeah happy December 14th! I noticed that but didn't really think of anything to do for it and don't have much extra time for anything fancy even if I did.
"Friendly. Very friendly. Too friendly."

Shareware Publishing Agreement
between Apogee and id Software for Goodbye, Galaxy! and Wolfenstein 3-D: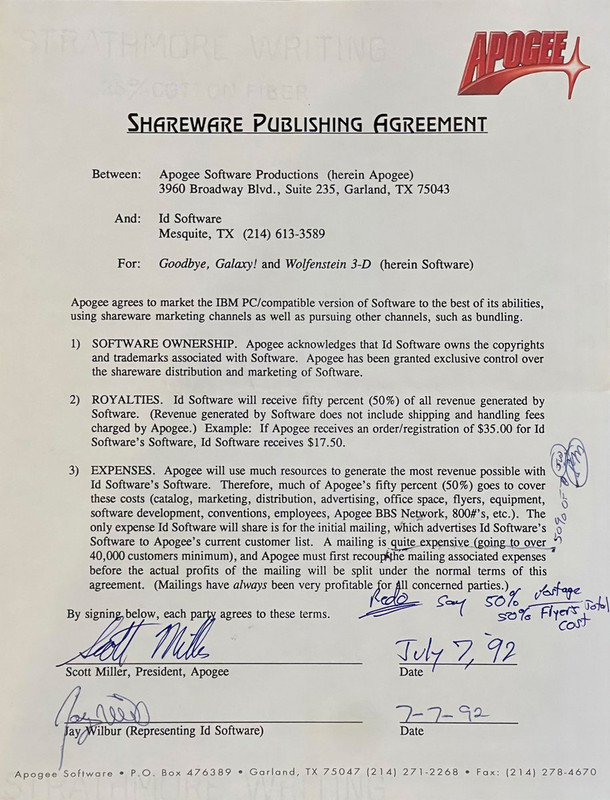 Amazing! Pretty sure Keen was hugely groundbreaking in a PC context. But the groudbreaking bits were nothing to do with Softdisk!