Happy Keen Day everybody.
Some time ago I was sneaking around older threads and came across an unfinished project. I felt in love with it the moment I saw it.
most of you might remember the original
FitF
thread by
Mr. M
:
http://pckf.rigeltechnical.com/viewtopic.php?t=823
And you might also recall the full data loss of all project files, owing by a hard drive crash.
But my excitement about this long-dormant mod was still unbowed!
In fact so much, that I took the time and started to pick up again this abandoned project in order to rebuild everything from scratch. At least that way my goal. The only reference points I had were some low resolution images, a demo video and some posts and irc conversations...
After positive and encouraging feedback from an early sample of my attempt, I've decided to make the announcement:
And guess what? I managed to rebuild what was given and I'm proud to present to you a playable one level demo:
Foray in the Forest -
The Reawakening from the Dream Machine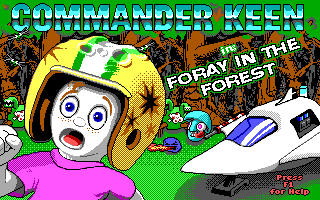 Download
:
http://www.shikadi.net/wiki/files/Mods/ ... -03-14.zip
Play in browser
:
http://jimage.org/keen/playmod/foray.html
The level is really just a taste of what's to come.
Please enjoy what's there!
- - - - - - - - - - - - - - - - - - - - - - - - - - - - - - - -
Notes
I can say that a certain two PCKF denizens have helped me investigate in this case.
with the help of Mr M I'm currently working and hopefully progressing this mod.
part of the data thought lost might get recovered. this should be exciting!
lemm offers to port this mod into the AR-engine. this promises some neat features like checkpoints.
a handful of PCKF members already contributed to this rebuild (+ I borrowed a Xky enemy)
that being said I'd like to ask all members of the community to support this mod in order to reawaken it from the Dream Machine.