Old Revision of Thread (Jan 1, 2008)
Hi guys
Sorry for the long hiatus of this project. I have been really busy with school but I am now on break in between semesters, so I am hoping I can make more progress in all of the free time.
Current Goals:
Right now I am working closer to get the demo of Keen 64 released. The updates in this demo will include controls and camera changes, Joystick support, Yorp \ Garg AI changes, new animations, a new title screen, updates to the beta level, a map level and a secret level.
Progress of demo:
I have most of those goals completed minus: a new animation for Keen, the new title screen, some of the secret level's models, fixed Beta level textures ( thankfully I know how to fix the textures, just haven't got around to it)
Lastly I have yet to fully tweak the controls \ camera to my satisfaction. Which brings me to the sub goals.
Sub goals:
Before I finish Keen 64 demo, my sub-goal for it is to release a small "gameplay" demo (or Keen Demo Beta, in a sense). This will include only the bare beta level and Keen. The purpose is to get feedback on the feel of the controls and camera so I can improve it and give the main demo a little more polish for the final release.
For the "gameplay" demo I just have to make some camera changes which I will have done very soon.
Latest Screen
(of Keen 64 as a whole):
2nd Revision of Thread (Jan 26, 2009)
3rd Revision of Thread (Feb 27, 2010)
4th Revision of Thread (Jan 8, 2012)
----------------------------------------------------------------------------------------------------------------------------------------------------------------------------------------
Milestones of project:
Keen 64 Beta (released 02/01/07)
Keen 64 Gameplay Demo (released 1/16/08 )
Keen 64 Demo (released 7/26/08 )
Keen 64 Pogo Demo (released 8/15/09)
Downloads:
Commander Keen 64 Pogo Demo
Demo Screens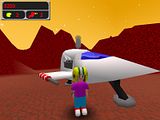 Pogo Demo Screens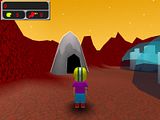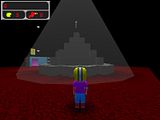 Previous PCKF topics:
Old PCKF Commander Keen 64 Thread
Release of Commander Keen 64 Beta
Release of Commander Keen 64 "Gameplay" demo (or Keen 64: Gamma)
Release of Commander Keen 64 Demo
Release of Commander Keen 64 "Pogo" Demo