Here is the gameplay demo I talked about in the other thread. This is strictly the work I've done so far on the gameplay, such as controls and the camera. You will be able to shoot, move around, jump and control the camera, there are no NPCs or items to collect. The main purpose for this is to get feedback on the controls or camera so I can make changes and give the project as a whole more polish by the time I release the demo.
In this release I am including 3 different control schemes as separate executables; Classic, First Person Shooter style (FPS), and Gamepad. Below are some diagrams of the controls, which are included with the game.
The Classic is similar to the way I had the Beta set up, but instead with a different way of moving around and a self-correcting camera.
FPS is akin to the way MDK 2 or First Person Shooters are set up.
The Gamepad scheme uses the same controls as the classic controls but everything is on a controller. On the diagram I tried numbering the buttons that were on the gamepad I used to test the game.
Control Diagrams:
CLASSIC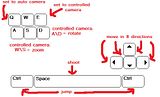 FPS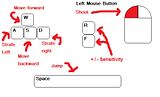 GAMEPAD
I am leaving the other thread open to direct non-gameplay demo feedback. So please refer all graphical and\or non-gameplay demo feedback to the "Unofficial Games" thread.
Lastly the level will more than likely be white, because I didn't bother to correct that problem from the Beta version, but by the demo it should be fixed. I don't think it will be a problem for this because I am focusing only on the gameplay. If you really want the textures to work, rename the main folder as Keen64beta and put it on your C drive, so as C:\Keen64Beta, but even then it only *might* work.
Now...to the main event:
http://files.filefront.com/Keen64Gammaz ... einfo.html
EDIT:
BUG FIXES (so far):
V 0.2
Fixed Keen from getting stuck on the cylinders
Fixed side-direction rotation limits
Toned down standard sensitivity
Added an adjustable sensitivity meter (with an updated FPS diagram)
V 0.21
Fixed level textures
V 0.3
Classic and Gamepad gameplay overhaul
Zoom limits for Gamepad and Classic verions
Vertical camera limits for FPS version
Smooth fade out for exit scene