I took a look at your modding setup and I noticed one or two things that leave room for improvement.
There are a few tricks to reduce memory usage. One rule of thumb would be to prioritize background graphics over foreground graphics over infoplane graphics.
This means, when ever you have the chance to copy over graphics (like wall or floor tiles) from the foreground to store them into the background tileset, do so and use them as a replacement. Animated waterfall tiles, for example, can be used as background tiles. On top of them, you can put a layer of transparent foreground tiles that have the attached property to either block or kill for instance.
This also applies to the optimization of point items. In some levels you can simply use point items from the foreground layer instead of a dedicated sprite point items. This way you can save quite a bit of memory. (I suspect you've noticed that already)
another rule of thumb - and this might be a bit of a hassle as it requires lots of manual work - is to reduce the number of individual tiles used per level. I have a simple example for you to illustrate the idea.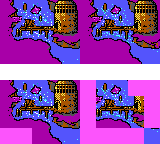 here you can reduce the number of individual tiles in this section of your tileset by 13 (I know I know, you don't really use all these very tiles ingame. I just chose this as an example to clarify the idea). As a side-effect, this also creates some room in your tileset for other stuff to add in. You might wanna consider this for upcoming projects.