It seems there has been a lot of talk lately about old mod projects and the progression of modding skills over time. I think it should be possible to prove the point that modding skills develop over time and still make it fun for everyone.
I've decided to release some of my older Galaxy stuff to the community. Some of it is pretty bad. I don't consider any of these official mods, so don't take them too seriously. Notice how I've improved over time. A few of these do include readmes
First up, an old Keen 4 levelpack. A couple levels here are actually pretty good, but the tiling is pretty bad. I dont have a readme here, so do your best to find the levels. The minsweeper mines level is so glitchy that you can't even play through it. In hellvile there is a place near the start where a gemholder is "supposed" to let you get the gem below it by disabling a flame.
Download
http://files.commanderkeen.org/users/ke ... lvpack.zip
Next is a quick one level mod for Keen 4. The new graphics here are hideous, but it's still kinda cool and has a devilish secret on how to get some extra lives.
Download
http://files.commanderkeen.org/users/kevadams/Lava.zip
Next is a quick one and a half level expansion for Dead in the Desert. At one time, I'd wanted to make a full levelpack to honor Ceilick's mod. The finished level has some cliffs to it.
Download
http://files.commanderkeen.org/users/ke ... evpack.zip
My next thing is probably the best download I have to offer. This was a big mod project I was working on a little under 2 years ago, and it was the mod that pretty much came before Atroxian Realm. I think this was the best test mod I've ever done. My intent was to create a Keen 5 mod that borrowed some elements and story of Keen 1. Some of this is pretty cool, but I can assure you my work on Atroxian Realm is still a lot better. This one merits a screenshot.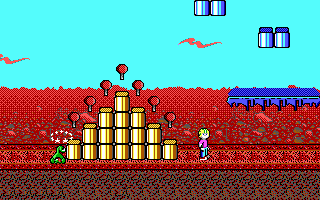 Download
http://files.commanderkeen.org/users/ke ... Redone.zip
Edit: You can download my first attempt at making Keen 1 Redone here. It's completely different than the above link.
http://dl.dropbox.com/u/22195447/Old%20K1R.zip
Sadly, my very first Keen levels ever accidently got deleted thanks to a fatal bug in The Photachon Tranciever. It had to do with saving a level in the editor while already having a copy of the game open. This would corrupt all levels permanetly.
Besides giving you guys something to play, my point is that your first mods are not going to be spectacular. I would spend a lot of time toying around with Keen before you commit to something serious.
Edit: I put these in other keen stuff since they really aren't completed mods.