Marking the 2 Years since beginning this project, I am happy to officially release the Commander Keen 64 demo.
The goal of the Commander Keen 64 project is to eventually recreate Commander Keen: Marooned on Mars in full 3D while retaining a low-poly N64-esque style.
This new demo features a big overhaul since the last major Keen 64 release, Keen 64 Beta. With revamped Yorps, Gargs, level and controls, to name a few changes. It also includes new additions over the beta, such as a map overworld in-between levels.
The story of this demo is set as a prequel the original Commander Keen adventure, before the ship parts get stolen. Which explains the lack of pogo and vorticons (lazyness is also a good explanation). So it features a Martian "city" level (as seen in the beta) not based on any existing Keen level.
I'd like to thank the community for giving me feedback and always supporting this project. I'd also like to give ZidaneA a big thanks, for providing the music for this game.
The details on how to use the gameplay controls are contained in-game, but please read the README on how to use some of the non-game controls, like volume.
Well, enjoy!
Download:
HERE! GO! GO! GO!
Screenshots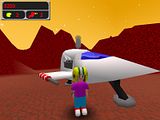 Bug Fixes:
Version 0.2:
Controls screen on the menu disappears when you select a control scheme
Fixed bug when conking out Yorp
Fixed some collision issues
Made the yorp push Keen more consistently
Reduced Keen's sliding
Version 0.3:
Fixed menu loading (hopefully)
Fixed controls dialog box flickering
Previous PCKF topics:
Main PCKF Commander Keen 64 Thread
Release of Keen 64 "Gameplay" demo (or Keen 64: Gamma)
Old PCKF Commander Keen 64 Thread
Release of Keen 64 Beta