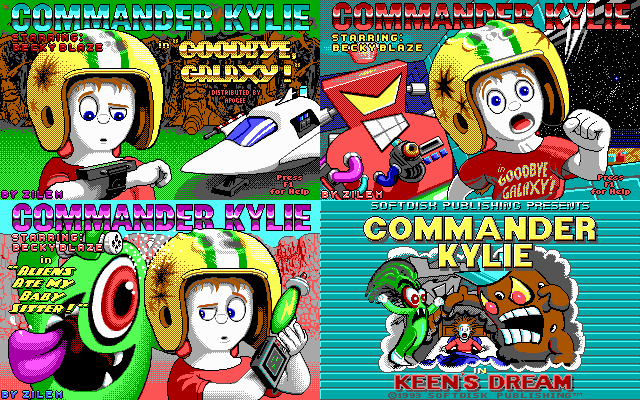 In this Mod you take the role of "Kylie", trough the Commander Keen Franchise
as a option to play as female, Through the "Vorticon Invasion" & "Galaxy" and Beyond!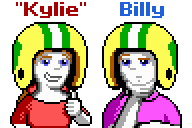 "Becky Blaze, a fourteen year-old inter-Galactic Adventurer, She finds herself back in time?
without the ability contact her older brother Admiral Keen or any of their allies! "
maybe she went back in time?, like in
Terminator
.
or she is the effect of an altered space time continuum?, like in C&C
Red Alert
&
Red Alert III


The Commander Keen we Know, don't know Kylie nor that she is he's younger sister. (although Keen would eventually figure it out)
and Mortimmer blinded by hatred thoward Keen, don't see the difference between Keen and Kylie, however he is somewhat confused by "Keens" new clothing style...

You may have Kylie appear as a Cameo appearance in your mod.
You can use Kylie as character in your Keen mod, if you do please credit me as her creator. (and PM about the mod.)
Commander Kylie "Vorticon Invasion":
Episode 1: "Marooned on Mars"
Episode 2: "The Earth Explodes"
Episode 3: "Keen? Must Die!"
Download
/
Play in Browser
Commander Kylie "Galaxy":
Episode 4: "Secrets of the Oracles"
Episode 5: "Goodbye Galaxy!"
Episode 6: "Aliens ate my babysitter"
Download
/
Play in Browser
Keen Dreams:
"Kylie in Keen's Dream"
Download
/
Play in Browser
Commander Kylie add-on-Mods:
Episode 7: "The Keys of Krodacia" -
Download
Episode 8: "Dead in the Desert" -
Download
Episode 9: "Battle of the Brains" -
Download
Episode 9½: "The Eright Accumilators" -
Download
"The Terror from Outer Space" -
Download
"Marroned on Mars" -
Download

Christmas Holiday Skin (W.I.P.)
Play in Browser
___________________________________
Misc:
--------------------------------------------------
Bio Menace - Jessica Viper:

Episode 1 - "Dr. Mangle's Lab" -
Download
/
Play in Browser
Net Keen: Character Pack




> Commander Kylie
> Commander Kylie: in Pyjamas (Dream only)
> Princess Lindsey in Dress
> Female Council Page
> Alternate Female Vorticon
Download
___________________________________
Community Assets:
--------------------------------------------------
Green Neural Stunner for Keen (Keen 4-6)

Tweaked design of holstered and drawn Neural stunner, from the original White/Yellow to a Green like the one you pickup
Packed with all the frames for Keen 4-6, ready to import into your mod via Modkeen or KeenGraphs
Download
/
Preview