Commander Keen: Atroxian Realm (v1.2)
Release trailer:
https://youtu.be/SMTInfb5C-M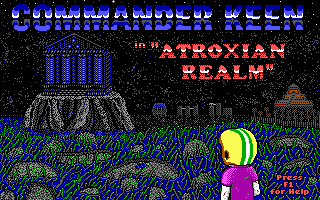 Instructions
:
You will need DosBox to play this mod. Run via AREALM.exe. No further files or setup are needed.
Tip: On Windows, simply drag AREALM.exe onto the DosBox desktop shortcut to play.
On Mac, you will need to mount to the proper directory. See
http://hints.macworld.com/article.php?s ... 8113608289
Please Read!!!
Easy mode is recommended for non-experienced players.
Full screen is highly recommended for the best experience. By default, press ALT-ENTER in DosBox to enter/exit full screen.
Please take a look at the help section story. You can access this by pressing F1.
It is recommended you save your game frequently on the world map. Though crashes/freezes are rare, they may occur.
If you experience crashes, freezes, or instances in which music will not play in levels, please report this. It is difficult to gage how the game will play on different systems.
Please report bugs, problems, and other recommendations here.
--------------
Download
--------------
Version 1.2
http://k1n9duk3.shikadi.net/files/patch ... lm_v12.zip
Version 1.1
https://drive.google.com/uc?export=down ... JRDBbyt25P
Version 1.0
https://dl.dropboxusercontent.com/s/3sz ... 0.zip?dl=0
Version 1.2 with source code
http://k1n9duk3.shikadi.net/files/patch ... rc_v12.zip
Version 1.0 with source code / development files
https://dl.dropboxusercontent.com/s/my3 ... lease.zip?
Keenwiki mirror:
http://www.shikadi.net/keenwiki/Atroxian_Realm
----------------
Soundtrack
----------------
Official Soundtrack (MIDI and IMF)
https://dl.dropboxusercontent.com/s/08l ... k.zip?dl=0
Official Soundtrack Plus Extras (MIDI, IMF, Bonus tracks, Alternate Versions, MP3s)
https://dl.dropboxusercontent.com/s/8pp ... s.zip?dl=0
---
At long last, after five and half years, I can finally make this post.
Thank you all for your patience, and I hope you enjoy.
This game is by no means perfect, but it's the product of years of hard work from many people. I think I can say this is the largest Keen mod that's been made to date.
I look forward to hearing your thoughts and feedback. I'll probably do a few updates to fix any major problems that might pop up. In particular, let me know if you find anything in the level design that you think might benefit from something like a difficulty reduction, more ammo, etc. I'll take all suggestions into consideration. Furthermore, future releases might include a few extra bits of story art that weren't finished in time for this release.
I may be releasing additional materials in the future. I plan on doing a soundtrack release with the audio files. I also want to share an extras folder containing various development files and older versions of the game. Since some of you may be interested, I will try to get the source code files out as well.
You can listen to the soundtrack on Youtube here:
https://www.youtube.com/playlist?list=P ... MdKZHDfH-s
----------
Credits
----------
Creator: Gridlock
Programming: Lemm
Music Composition: Gamebird
Additional Music Composition and Editing: Gridlock
Story Images: T-Squared
Main Testing: Fleex
Additional Testing: Keenfan, T-Squared, Gamebird, Lemm
Early Build Patching: Lemm, Levellass
Programming Support: Fleex
Engine Programing: NY00123, Andy Durdin, Lemm, David Gow
Tools Support: Lemm, Levellass, Fleex, Mink
Artwork Contributions: Bubbatom, Ceilick, T-Squared, Gamebird, Mobiethian, Tulip, Preston, Fantomx, Doomjedi, Grimson, Szemi
Let me know if I missed your name and I'll add it.
Special thanks at lemm and T-Squared for helping me get this out the door in the last few months.
For more special thanks and information, consult the Help section titled "About AR" (press F1 to access this menu).
Thanks