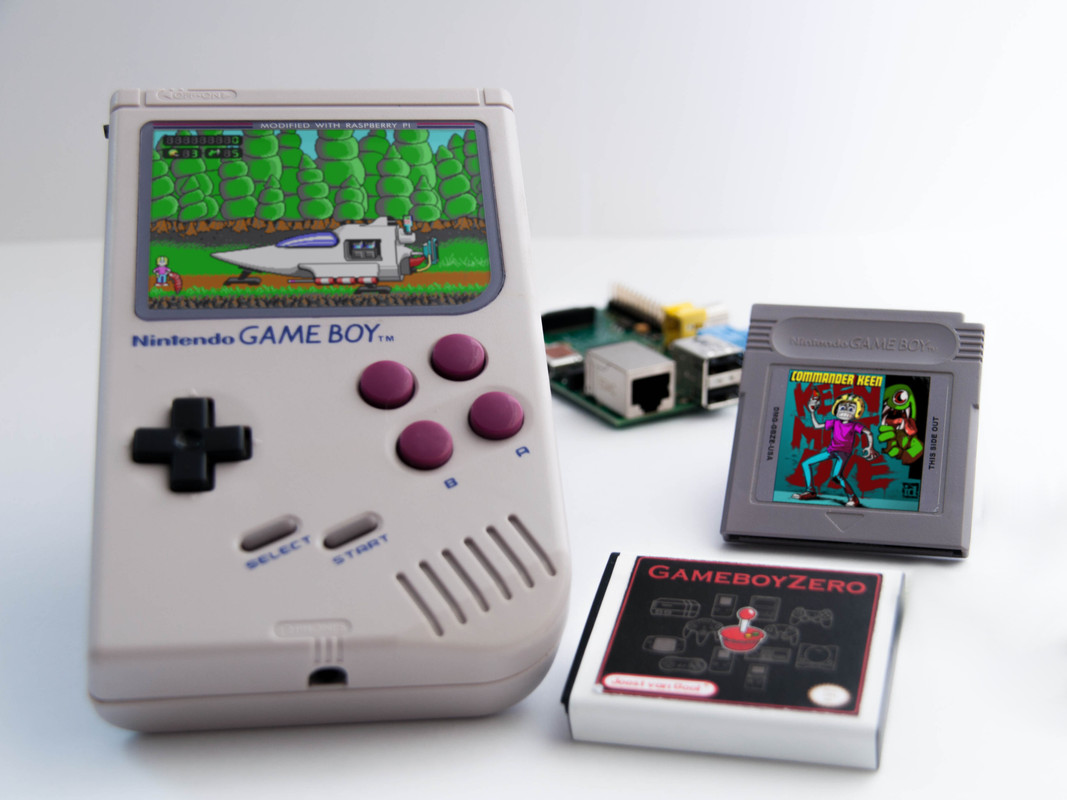 GBZ vs Keen mockup. shoutsouts to jostie94
Good news everybody. It's now pretty easy to play your own Commander Keen games and mods on a DIY handheld device!
Like seen in the picture above I decided to go with the good old
Game Boy
case. To spice things up I modded the shell a bit so I can fit a bigger 320x200px screen and added a couple of extra buttons. Talking about electronics this bad boy runs on a
RaspberryPi CM3
plugged into
Kite's Circuit Sword
. And the best thing is: the assembly is also suitable for beginners. No expert soldering skills are required. if you wanna know more about the GameBoy Zero project check
sudomod.com
.
For everybody interested I'm gonna update this first post with useful info. So make sure to check here from time to time.
===================================================================================
Software Setup:
Once all bits and parts are assembled, it's time to setup the required software to run Commander Keen games on the GBZ. We need to install DOSBox, configure and re-map the input buttons, and finally copy over some pre-patched Commander Keen games. But first we need to make sure to activate WiFi.
Activating WiFi:
Connect your GBZ with an USB-Keyboard. In emulationstation go to options, run the WiFi script and follow the instructions. When done, the Keyboard is no longer needed.
(You don't have an USB-Keyboard? Shutdown the GBZ and remove the SD card. Open the SD in your computer and edit '/boot/wifikeyfile.txt' with "NOTEPAD++" [NOT the normal notepad].)
Installing DOSBox:
In emulationstation go to
options
, run the
retropie setup
and select:
Manage packages --> Manage optional packages --> dosbox --> install from binary
back --> back --> back --> Preform reboot
Setting up DOSBox:
Shutdown the GBZ and remove the SD card. Open the SD in your computer and navigate to
/home/pi/RetroPie/roms/
. In here create a new folder called
keen
. In this folder place a copy of the modified DOSBox
config
and
mapper
files which you can download here. Make sure to unzip them first:
(Alternatively you can also do things manually. I wrote a tutorial which you can find here: Configre input for DOSBox)
Copying Gamefiles:
Again open the SD in your computer and navigate to
/home/pi/RetroPie/roms/keen
. Inside that folder you will place the games and mods you can download from the list below. Just make sure to unzip them first. This should look something like this:
/home/pi/RetroPie/roms/

keen/Secret_of_the_Oracle
When done extract and copy over the matching shell scripts (
.sh
) from the zip to the
pc
folder. Things should look like this:
:
/home/pi/RetroPie/roms/

pc/Secret_of_the_Oracle.sh
that wasn't to hard, was it?
last step: put the SD card back into your GameBoy, launch it and have fun playing Commander Keen games on your self-made and modified handheld.
NEAT!
Pre-configured patch and game files:
The downloads for Keen 2, 3, 5 and 6 mods will not include the executable necessary to play the game (they are still not free to distribute). You will need to put your own executable in the mod directory and unpack it with UNLZEXE prior to playing for the first time.
Also note that the high score table isn't patched properly yet. Any help on this is very much appreciated.
Galaxy mods
:
:
Vorticon mods
: