I know I just released the Alphamatic and a lot of people haven't had time to play it yet, but I'd like to share some preliminary thoughts on a full Atroxian Realm sequel. This isn't a game announcement so much as me soliciting some discussion and getting advice on a few things. I can't guarentee this sequel will actually happen. For one, I'm about to enter my senior year of college, and that means I'll be plenty busy trying to find a job, dealing with life, working on other projects, etc. I don't expect that production would begin on this game any time soon.
And, I hate to bring this up, but... as passionate as I am about making Keen games, I do have to question whether it's worth spending hundreds and hundreds of hours on a game that will only ever reach a tiny audience. And, it would be nice to be able to make a game that I can actually own and sell. That doesn't mean I won't do it, but I do have to ask myself whether it's worth the time and effort. Will many people even be around to play it several years from now? I hope so.
So anyway, keeping plot details light, here are some ideas I'd like to explore if I make it:
More focus on story
This might not be to everyone's taste, but I want a more involved story this time around. This means a lot more characters and events in the narrative. Because the dialogue got a bit heavy in Atroxian Realm and The Alphamatic, I'm hoping to integrate more of the story directly into gameplay. Maybe some conversations could happen in the middle of gameplay, or Keen could find bits of lore scattered throughout the world.
I do have a rough draft of much of the story planned out, though it's very much a WIP. Tonally, I'd like this to feel like a dark mystery thriller and a grand conclusion to the story. Atroxian Realm got pretty dreary/mature at times, though, and I'd like to move away from that feeling.
Chapter-based storytelling
I'd like to spreads the events out across many chapters, with each chapter containing a chunk of gameplay and story (maybe a few levels, or an important gameplay sequence). Chapters will vary in design. Some will be rather linear level sequences, while others could be more open-ended and promote exploration. My current story draft has about 18 chapters, and I might split the game up into two volumes, each a separate game release.
Multiple playable characters
This is the big one. I want Keen, Lindsey, Barker, Oracle Janitor, and Spot to all be playable at various points in the game, since the story is a joint adventure with all of them. Each character could have their own special abilities. Keen has the pogo. Maybe Barker could have an ankh-based invincibiliy power, Spot could have the ability to see secret passageways, or Lindsey could jump really high, as examples.
I haven't figured out how switching between characters would work, but this could allow a hint of Metroidvania-style design in some chapters. Maybe the player finds an area that only Lindsey can access and has to return once she's been rescued. This is all hypothetical, but I really think level design built aroud multiple characters could be an interesting evolution for Keen. This also means I can develop these characters more and make them integral to the story.
Potentially other new features
This stuff is all up in the air, but I'm considering how other features could be worked in. For example, maybe there are space shooter combat sequences with the BWB inspired by the Galaxy Defender mod by Dr. Colossus. Or, maybe there is some kind of upgrade system where you can spend points to upgrade abilities. The point is, I want this to feel like a very different style of Keen game to keep things fresh.
The engine
So you're probably wondering how these ideas could even work in a Keen mod. So am I!
This is one of the big questions I want to solicit feedback on. I don't think this could be achieved in a standard mod. Ideally, I'm hoping to take a more hands-on approach with the programming. Here are the options I see:
1)
Continue working with the Dreams source engine by Lemm
This is the engine used for Atroxian Realm. It definitely expands the capabilities of modding but is still prone to a lot of the major limitations, especially memory. I have serious doubts that multiple playable characters, for example, would work well with the memory constraints of this engine. Perhaps this engine could be modified or rebuilt, but I do not understand how it works well enough to know those answers.
2)
Use another Keen Galaxy reimplementation

I know of Omnispeak and CKGenius, but I'm not very familiar with these engines. It's very important to me that the physics and behavior feels almost indistinguishable from the original, and I'm not positive these engines are quite there yet. I'm not trying to disparage the creators of those engines, though, and I'd be happy to talk more about it.
3)
Start from scratch in Unity
Perhaps the most challenging, but also the most appealing option. At this point, I would pretty much be making a fangame. If I can get past the massive hurdle of implementing a near-perfect Keen engine, this would free me up to do pretty much anything I could possibly want, and I'm fairly proficient at Unity development.
I did start working on some early experiments with getting things like resolution and color correct, and the possibilities are amazing. I wrote some shaders that ensure that anything on the screen matches the native Keen resolution (320x200) and 16 color format. This means I can things like adding lighting effects to the tiles/environments, creating dynamic particle effects, and even adding 3-d models that can blend with the rest of the Keen style. It's a cool way to preserve the classic Keen style while also taking it to the next level.
Here's some screenshots that illustrate several test effects. The first shows some smoke and snow particle effects. The second shows a dark spotlight effect with snow particles. The third shows cubes as an example of how 3-d objects could be integrated in game. These are very unrefined but show the basic idea of what's possible in Unity.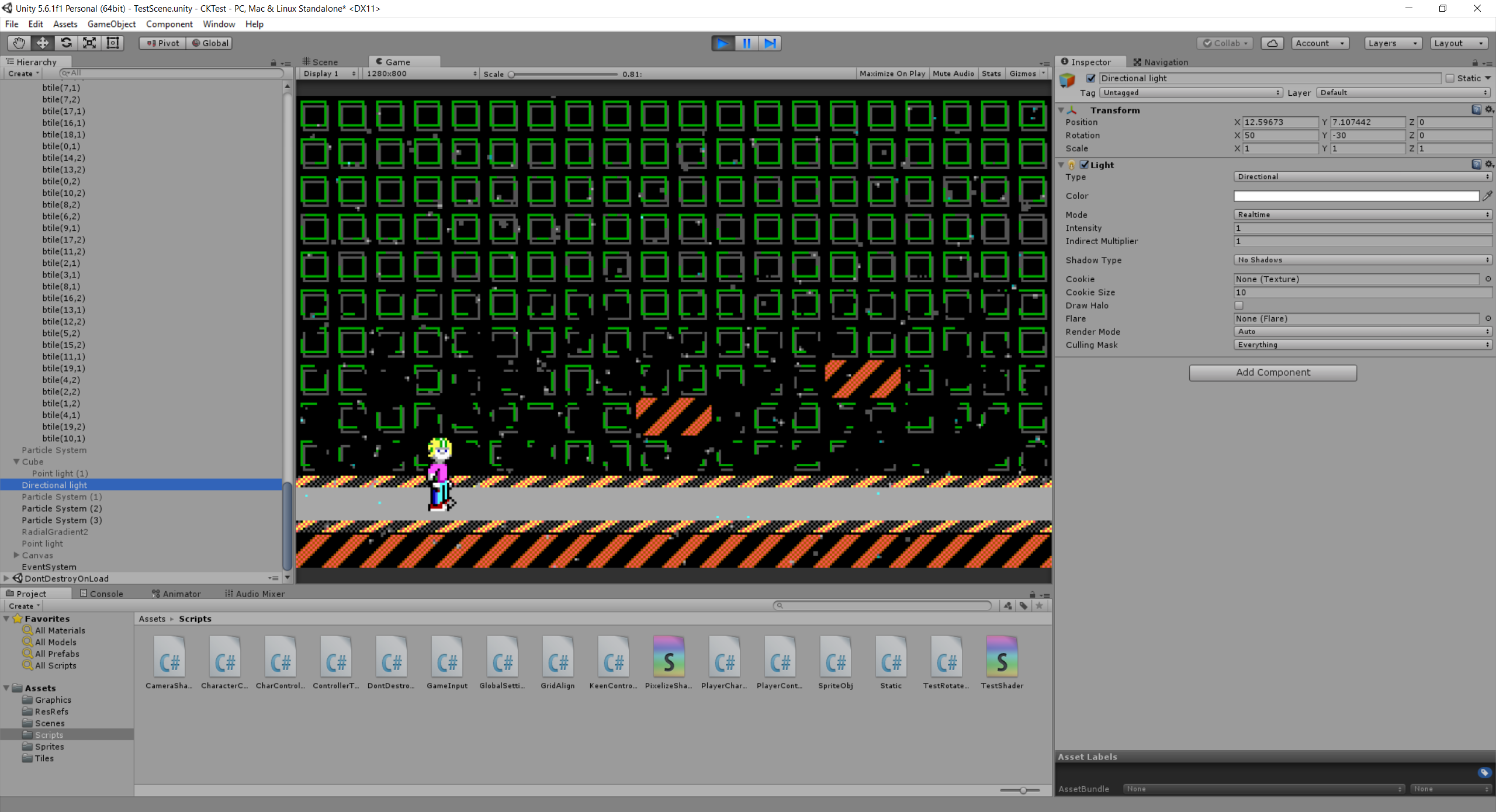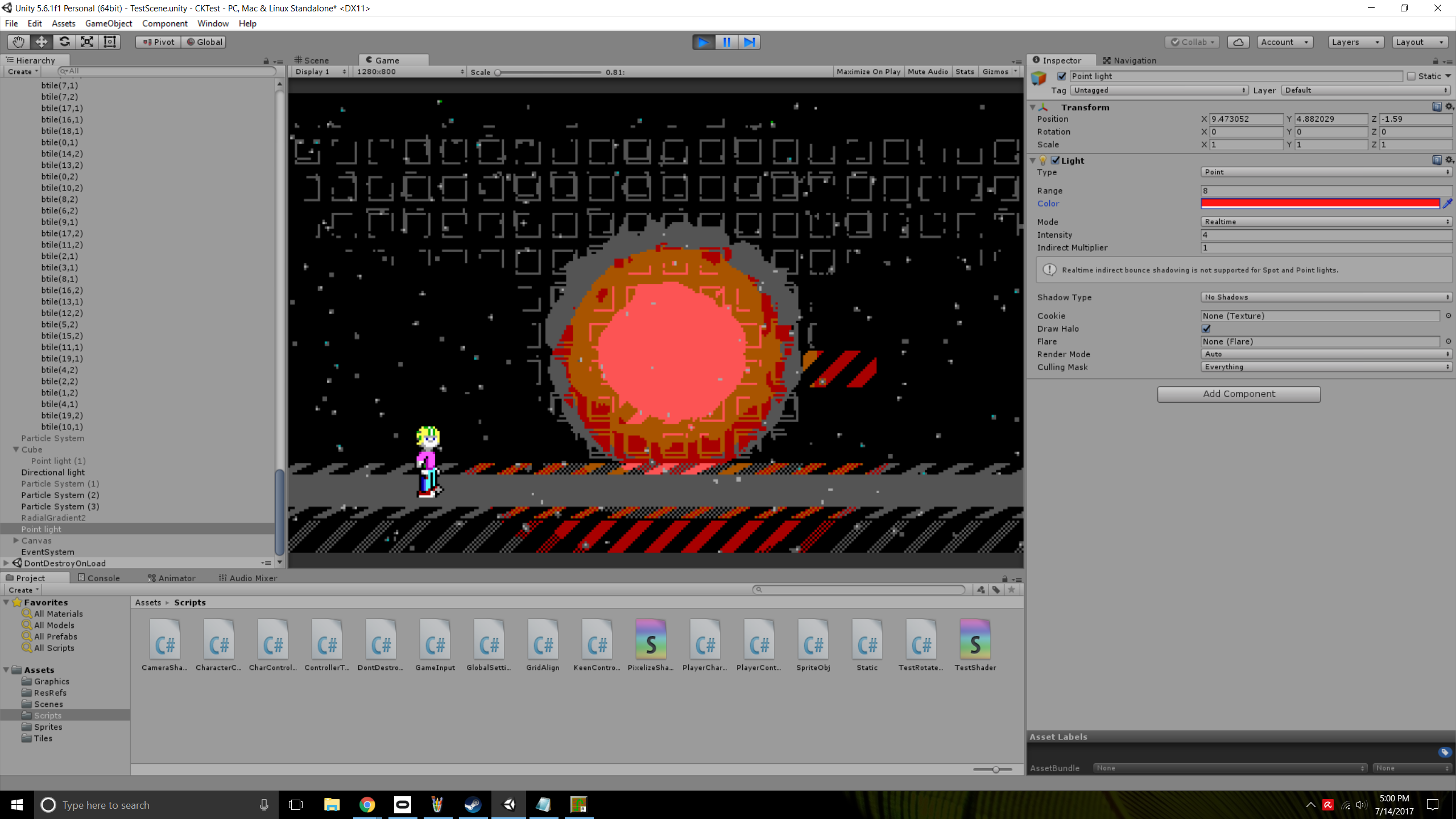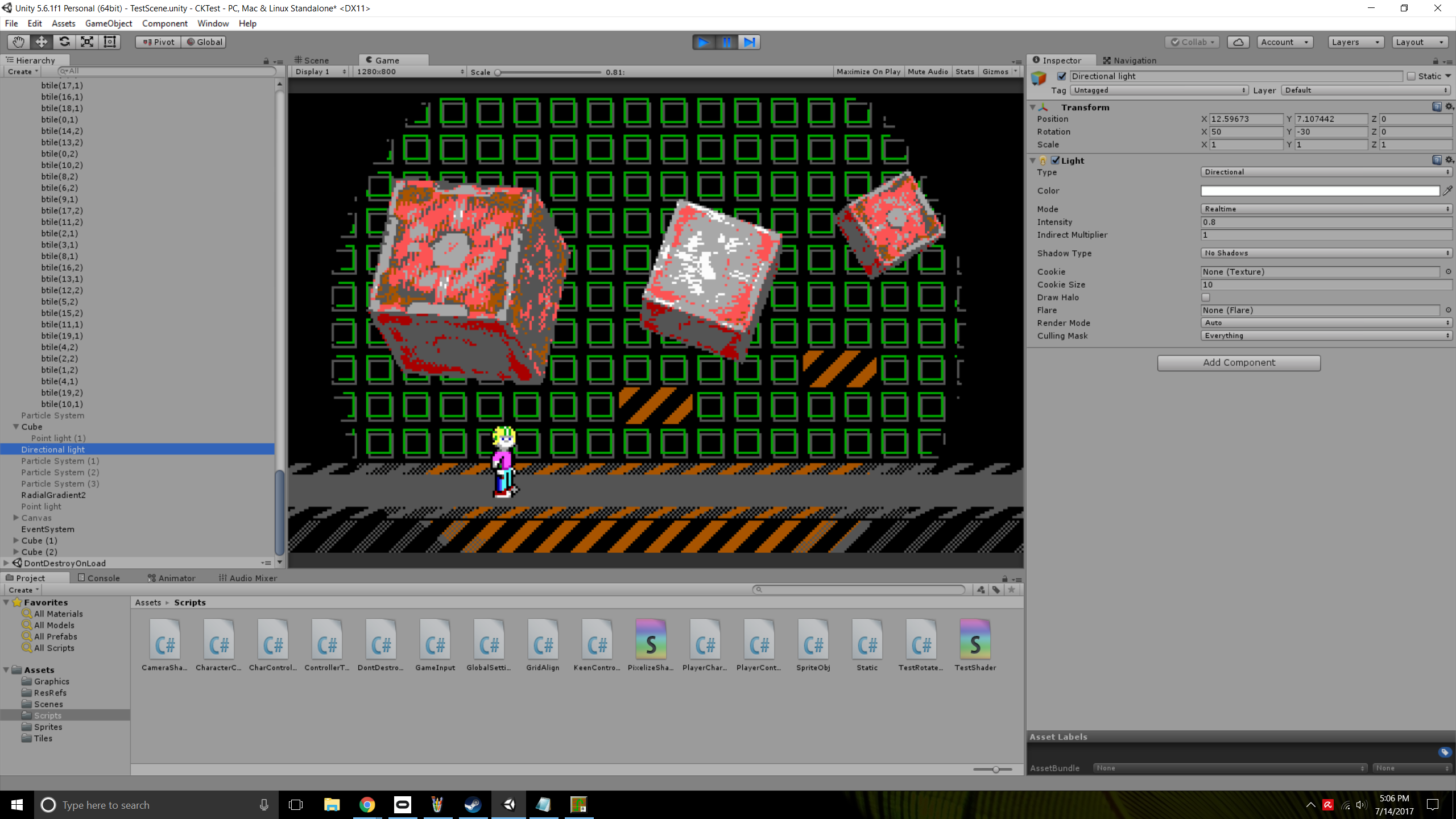 Potentially, I might be able to translate some of lemm's physics code into Unity C# to get more accurate physics. Unfortunately, these engines are so different that it's a very complex task. I may end up needing help if I take this route.
Other Thoughts
I'd love to know if a full Atroxian Realm sequel is something you all want to see. If most people don't feel particularly enthused about it, then maybe it isn't worth my time. But, even if it doesn't enter production for a long time, I'm at least having a lot of fun planning it. Is it crazy ambitious? Maybe, but I am excited about it.
I'm open to suggestions and feedback on this (vague) proposal. Is there anything you'd like to see out of a sequel? Any ideas from Atroxian Realm that you especially liked or things you want changed? I may be open to sharing story details with select people in the future.
Side note: I also worry occasionally about publishers cracking down on fangames with cease-and-desist takedowns. Zenimax has shown that they are capable of targeting id software fangames like DoomRL. Though the Keen community has been small and ignored so far, I wouldn't want to make myself or the community a target for legal trouble.
This is long, woah. Thanks for reading
I appreciate your interest and thoughts.