I'll try and make my updates here on this post, so look here first to see if I've updated anything. (I won't disclose too many details though.)
- - - - - - - - - - - - - - - - - - - - - - - - - - - - - - - - - - - - - - - - - - - - - - - - - - - - - - - -
Notes
:
I am working on my Keen 4 mod that is intended to close the gap in the storyline between Keen Dreams and Secret of the Oracle.
It's final title is
Foray in the Forest
.
Mr. M
started this mod way back in 2009 but unfortunately lost all of his data due to a hard drive crash. In 2016 I picked up this abandoned project and rebuild everything from scratch. A first demo was released on KeenDay 2017.
The mod is progressing slowly but continuously. The goal is a full 18 level mod. Of course some fine PCKF denizens contribute and collaborate to make this mod great again. yes, we can.
- - - - - - - - - - - - - - - - - - - - - - - - - - - - - - - - - - - - - - - - - - - - - - - - - - - - - - - -
Links
: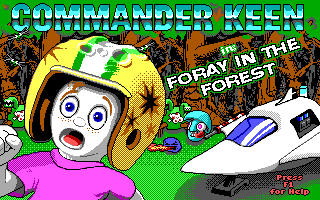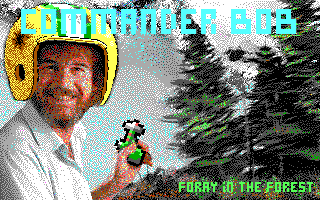 One-level-demo:
http://www.shikadi.net/wiki/files/Mods/Keen4/m.nisaba.foray_in_the_forest.k4.2017-03-14.zip
Wiki article:
http://www.shikadi.net/keenwiki/Foray_in_the_Forest
Trip to the past:
viewtopic.php?f=2&t=823
- - - - - - - - - - - - - - - - - - - - - - - - - - - - - - - - - - - - - - - - - - - - - - - - - - - - - - - -
Progress report
:
Levels
All level designs are prepared and carefully arranged on paper. I only need to fire up Abiathar and add the last missing 2 levels to finish this mod. I can already see the finish line! Feels like a relieve. Can't wait to hand this out for the beta testing. Really do hope that ya'll join the early access phase.
Graphics
I can't comment on this, as the mod isn't done. I'm modding the tileset and adding/replacing tiles as I need them. Since my plan is to have this take place on Gnosticene IV, most of the graphics and monsters will remain or be somewhat Keen 4 related. Of course I will still provide a new experience as you can tell by the images attached down below. what I can say though is that lemm & Fleexy did some fine tricks to expand the tilesets! dope!
Music
30 songs are done now! yay! The World Map song is set in stone. Shoutouts to kvee. He did a hell of a job composing and remixing tracks for this mod! Also we have fine tunes made by Kohntarkosz_, eggs_box, Mr_M, and a couple of other guys. I love 'em all. I'm very happy with the soundtrack so far.
Enemies
37 creatures are set in stone. To me the set of cast is the heart of this mod. I had some loony ideas along the way and fortunately K1n9_Duk3 developed some fine tricks so that all visions actually came true. this dude is madness when it comes to coding. I'm very excited how you gonna like the results.
Allow me to quote Tom Hall who is of course a major inspiration for this mod:
"Personally, I feel the major area in which we kick butt over all other games is in the quality of our actors. Most other games don't seem to think the other creatures in the game need personality or thought, just move 'em left and right and maybe fire something. Our actors have emotions and agendas."
Title Screen
Awesome-Keener contributes a lot to make this look and feel to the overall theme
Story
Well, my grammar skills require a ghostwriter. Fortunately, nanomekia has joined in tracking down all grammar cruelties and is helping a whole lot to polish all texts. Together we came up with some neat lines and a couple of extras here and there. should be very enjoyable. at least we are doing our best to make all of this entertaining. I hope you like donuts!
Extras
Better fasten your seatbelts. There will be tons of stuff that no other mod has ever done. K1n9_Duk3 made it possible to realize some bodacious things. so stay tuned. this will be fun.