Snortimer

wrote:

↑

Tue Mar 26, 2019 1:38

[...] So the patching is all done then? Just the remaining animations, tileset and level design left? How exactly have you sketched out the levels that you already have?

Regarding my idea for the trees, this sort of thing, maybe?

I tried to use the same type of shading gradations as in the Keen 5 title screen[...]
well, like Atroxian Realm this is a Source Code mod, meaning that I don't really work with patches. instead, with the help of
NY00123
,
lemm
and
K1n9_Duk3
things get coded/implemented directly. Big shout-outs by the way!
a hand full of levels are designed by
Mr. M.
, a couple were made by
The Shifted One
, one by
Ceilick
, one by
Mark the Candy Junk
, one by
tulip
. everything else is sketched by me on paper, mostly when I take a ride with the train... I'm really hoping to get
Gridlock
aboard, as soon as the tileset is set in stone.
You see, there are a lot of people involved. same goes for the Soundtrack (
kvee, Kohntarkosz_, Mr.M, MOM4Evr, troublesomekeen? ← I'm still waiting yearningly for your tune
), or sprite development (
Zilem, Ceilick, XkyRauh
), or graphics (
proYorp, Dr.Colossus, Ceilck, Zilem, Gridlock, Roobar, Mobiethian, Jarno LV, Plasma Captain
), and so many more... is gonna be a long credit list. I conciser myself as a creative art director with a fantastic team of skill, passion and splendid ideas.
and I'd like to invite you to put your name on this list as well. If you can, please finish your pixelation. I really like this sort of shading and I'd love to see the whole thing.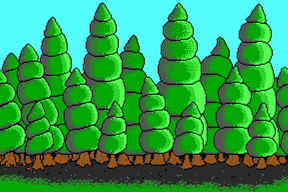 thanks for the feedback. I see what you mean and my aim is to keep things style-wise as close to the originals as possible. but I do think that Snortimers version works really well. In my opinion, it feels more natural without being overly dotted. well balanced IMO.