Yesterday, I sent a mail to Chris Hendricks a.k.a. Ilsoap, in which I asked him about his old Arachnut picture, which was one of the nominees of the Keen Awards 2002. I also mentioned the
Shadowlands animated series
and that its storyline after episode 3 is still unknown.
I not only received the Arachnut image, but also brief summaries of episodes 3 to 9 of Shadowlands! Finally, we know about the events after episode 3, including the series' conclusion. Thanks, Ilsoap!
The Shadowlands synopses:
Ilsoap

wrote: Episode 3, Professor Berke gets sucked up by a Dopefish underwater. He uses the Dopefish like a submarine (since the space where the brain is just a big empty space). Things go well until some Sprites are angry that a Dopefish has entered their space, and they start shooting their lasers at him. Professor Berke gets himself spat back on shore out of desperation, never wanting to enter the water again.

Episode 4 would be Professor Berke's invention of the Berkeloid, which ends up being a difficult foe for both sides, and it gets banished to its own island.

Episode 5, has a montage of battles between the Licks and the Slugs (with the arachnuts heckling off to the side).

Episode 6 has the Licks finally defeating the Slugs, but the Slugs explain that they never wanted to conquer the planet of the Licks... they were forced to leave their home planet by the Shikadi (who wanted to use the slime from their homeworld as fuel). They reach an agreement.

Episode 7 has the members of the planet living generally peacefully. Duke Mushroom is helping Professor Berke in his lab. The rest of the slugs are integrating into society. But the Shikadi return... it turns out that without the slugs to replenish the slime on their home planet, it all dries up. So the Shikadi want the slugs back. The Licks say "not without a fight".

Episode 8 is the battle against the Shikadi. The Shikadi seem pretty unstoppable, but Professor Berke turns the tide by swallowing his fear and diving down, getting eaten by a Dopefish once more. He gets the Sprites to follow him on shore, and the Sprites start blasting the Shikadi with energy weapons. Energy vs energy seems to be effective, and the Shikadi start to disintegrate. But then the Shikadi Master gets involved.

Episode 9 the Shikadi Master goes on an invincible rampage of everything. He appears unstoppable, but Duke Mushroom has been learning science from Berke, and comes up with his own solution... sentient clouds. He creates a gigantic lightning cloud with angry eyes that hits the Shikadi Master with a massive ZAP, and that's enough to destroy the Shikadi with a power overload. The episode ends with everyone on the planet happy, and statues made in the honor of King Slug and King Lick.
And here's the fearsome Arachnut: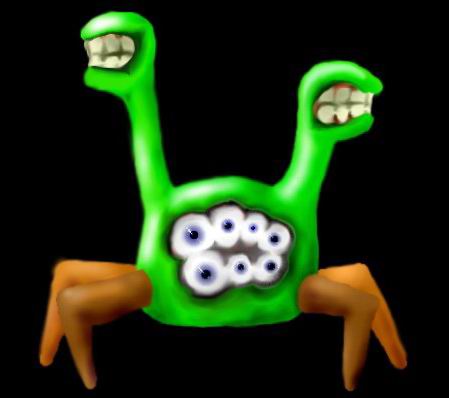 EDIT: Swapped the synopses of episodes 4 and 5, per Ilsoap's post.