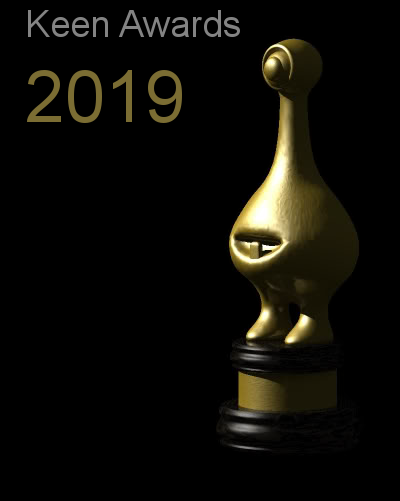 (I hope Lava89 is okay with the reuse of the Yorp trophy.)
A while ago, I created a KeenWiki article on the
Keen Awards
, which contains lists of all the winners. The event was held three times during the PCKF's early years to honour Keeners for the great stuff they create. There were no Keen Awards 2005 because "2005 sucked" (I don't think that's true, but whatever). Since then, there have been several unsuccessful attempts for new Keen Awards, which were usually intended to cover multiple years.
Many amazing things have been done in recent years, I think it would be cool to revive the annual Keen Awards. Works released in 2019 could be nominated, or something that received a major update in said year. The KeenWiki article contains links to the archived threads, you can see the whole process for the Keen Awards 2002 (nominations, polls, results).
I think it could work the same way again in early 2020. It's feasible as this board doesn't have hundreds of active members. The categories could be like this (only minor modifications):
EDIT: Added some new categories and the nonimees so far.
1: Programming
1.1: Best Vorticon Mod
(incl. level packs)
1.2: Best Galaxy/Dreams Mod
(ditto)
1.3: Best Fangame
-
Super Mario in Marooned on Mars
by Ryan Silberman
-
Planet Cloudius IX
by Roobar
1.4: Best Level
(from any 2019 mod, level pack or fangame)
1.5: Best Tool
-
Customized Screen Update Code
by K1n9_Duk3
2: Fan Art
2.1: Best Graphical Artwork
(e.g. an individual piece of art or a series of comics)
2.2: Best Narrative
(fanfic, story of a fangame/mod/comic etc.)
2.3: Best Music
(e.g. an individual remix or the soundtrack of a work)
2.4: Best Animation
-
Dabbing Shikadi
by Commander Spleen
2.5: Best Non-Computerized Art
(pencil drawing, sculpture, cosplay etc.)
-
Yorp and Garg cosplay
2.6: Best Gameplay Video
(speedruns, playthroughs etc.)
3: Web
3.1: Best Website
-
Sierra Death Generator
by Foone
3.2: Best Online Entertainment
(e.g. games with online support and browser games)
3.3: Forum Crew Recognition
4: Miscellaneous
4.1: Keenest Person of the Year
4.2: Really Keen Stuff
(something great that came out of the blue)
4.3: Most Promising Project
There were also one-shot categories. Nothing comes to mind for 2019, but for the Keen Awards 2020 (in case it happens), I'm thinking of something like "Best 30th Anniversary Tribute".
What's your opinion? If you have any suggestions (for example,if you think that the number of categories should be reduced), please post them.