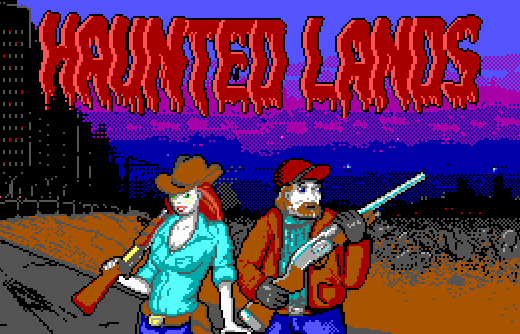 Suddenly, the first version of the new game in Dangerous Dave series was released. Called "Haunted Lands". The game was made by only one person, nickname alevgor. The game has hurricane gameplay, new monsters, 4 music tracks, 6 levels, two difficulty modes, unique game mechanics new to the series, and most importantly, two game characters.
You can try PC version and play online.
Download and play online here:
https://alevgor.itch.io/haunted-lands
Playthrough for both characters has already appeared on YouTube.
For Dave:
https://www.youtube.com/watch?v=vtG7AVUgMcI
For Dave's girlfriend:
https://www.youtube.com/watch?v=J8I30mKCNPw
Developer's Channel:
https://www.youtube.com/watch?v=v5zV6Qe9YDA
Now a compelling request! It is very necessary to distribute the game as much as possible, as not an official continuation of the series. The developer gave a green light. First of all, it's necessary show the game to famous streamers, discuss on forums and communities, information about the game should appear in retro news feeds, YouTube videos. I will do my best for, but I have to rely on any support. Anyone, make your contribution - write a review, play on the stream, just record the video playthrough, let's play, publish news about the game. Any support is important! I also ask you to leave a good review on the author's page - he really appreciates this. I say thanks in advance.