Ooh! This is the one I helped with!
Ah, wish I could've been able to do more on my part but I've been completely missing in action for like a whole year. "Collab" is a rather generous term at this point.
I think I only actually did like, maybe a quarter of the graphics, and most of those were just following a blueprint. But hey, it was a ton of fun working on this for the part that I did!
I love the name Sunset. That's a much better name than the working title IMO (which was Ancient Aliens, for those of you that expressed interest in the original "help wanted" thread; it's this one!
), since that's such a key part of the aesthetic. Even more so now, it looks like.
It'll be interesting to go through and see all that's changed here. There was no story last time I did any work on this. The dialogue with the BwB is great stuff
, and omg the map dinosaur thing is named Skippy I love that. Such a perfect name.
This mod has so many cool new mechanics. I highly recommend for everyone to at least play just these first four levels, to see all the different main game modes. Tech demo stuff.
Don't be too intimidated, the first level is actually easier than Keen 1.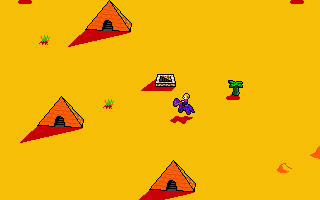 Has anyone done gameplay video of this yet?
There's a lot of great reactions to be had here. Even if it's just raw DOSBox video, it would be very cool (and entertaining) to see how people first react to the new environments. And I'm sure KeenRush especially would appreciate the live feedback.
Thank you to everyone who's left replies, reactions, and reviews! I'll see if I can get a chance to respond to some of them soonish. Keep 'em coming!